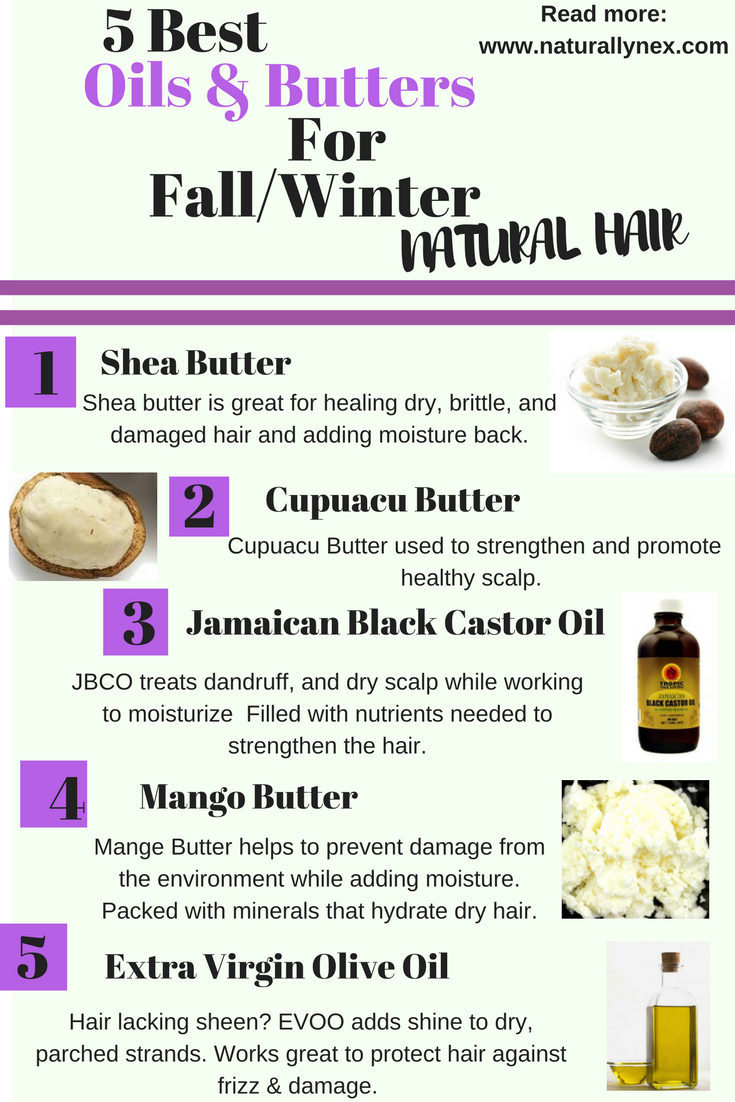 I can't believe that we are in Fall 2016, the year has flown by and we are more than half way done with the year. So crazy, right? Well, we all know that Fall & Winter can wreak havoc on our natural tresses, so it's better to be prepared for the cold temps. Break out your favorite oils and butters that will protect your natural hair against these temperatures.




Shea Butter
Shea butter is one of my favorite butters to use in the Fall because it combats dry hair quickly by adding the moisture right back. It also has healing properties that work against brittle, breaking, or damaged hair as well. It's best to use Shea butter when you hair is wet or damp to lock in the moisture.




Mango Butter
Before July 2016, I had never heard of mango butter! Omg! I've been missing something so good it's ridiculous. If you haven't heard of it, trust me you should try it, and Naptural85 is a great tutorial on it. Mango Butter is a soft butter used to moisturize and otherwise promote healthy hair growth. It smells so good and it's definitely not a heavy butter, so if you are allergic to shea butter–mango butter is the next best thing.
Cupuacu Butter
Cupuacu Butter (say that 3 times fast lol) is another butter that I learned of this year and won't be turning back. It's another soft butter similar to mango butter. It helps promote soft/manageable hair, elasticity, and a healthy scalp! I love it! If you don't want to use an oil to seal in the moisture, choose Cupuacu Butter, it will give you that extra moisture needed.
Jamaican Black Castor Oil (JBCO)
JBCO is hands down my favorite oil to use during this cold months because of the thickest of the oil. It's meant to provide a protective shield over the hair to strengthen and moisturize. If you're one of those naturals who gets extra dry scalp in the Fall/Winter JBCO will definitely soothe the driest.
Extra Virgin Olive Oil (EVOO)
Lacking sheen? EVOO is definitely an oil that can add shine back in to dull, dry hair. It's filled with fatty nutrients that help protect the hair against damage due to dryness. EVOO also helps prevent dandruff, as well fight frizz.
Let me know in the comments what's your favorite oil or butter to try this season!